Introduction
Types of Eating Disorders:
I wanted to start by providing a little information on some types of eating disorders. When I refer to "eating disorders" I am talking about all of these not one specific.
Anorexia nervosa:
Typically affects people in teens or early twenties and tends to affect more women than men. Anorexia nervosa is when someone restricts calories, constantly monitors food consumptions, and avoids eating.
symptoms:
being considerably under weight
restrictive eating patterns
an intense fear of gaining weight
a relentless pursuit to be thinner
low self- esteem
distorted body image
obsessively working out
obsessively thinks about food
Bulimia nervosa:
Typically affects people in teens or early twenties and tends to affect more women than men. Bulimia nervosa is when a person typically purges on excessive amounts of food in one sitting and then attempts to purge. Common purging behaviors include vomiting, fasting, laxatives, diuretics, enemas, and excessive exercise.
symptoms:
recurring episodes of binge eating with a lack of control
recurring episodes of purging to relieve calories and to prevent gaining weight
a low self-esteem
body image issues
a fear of gaining weight
body weight fluctuates or is low
Binge eating disorder:
Binge eating is one of the most common eating disorders (especially in the United States). This disorder happens more equally among men and women and often times develops during adolescence but can develop at any point in life. This is when people binge on large amounts of food during one sitting with a lack of control. People who binge eat don't restrict calories and don't purge.
symptoms:
eating large amounts of food during one sitting
feeling a lack of control during binge episodes
feeling a stressed, guilty, or distressed about the binge episode
not using purging behavior
Purging disorder:
Purging disorder is when people purge after eating in attempts to induce weight loss. The difference between purging disorder and bulimia nervosa is that bulimia is followed after a binge session whereas purging is not connected to binging.
symptoms:
self induced vomiting
misuse of laxatives or other medication
excessive exercising
fasting
Male Eating Disorders:
I wanted to state plain and clear that men having eating disorders is a real thing. It is not a "female disease" or "female struggle" despite what you might here. Men are actually more likely to get an eating disorder in sports and are less likely to get help for it. Men only make up 5-10% of anorexia cases are male but out of that percent around 45% of them are involved in "an occupation or athletic team in which control of weight is important for good performance". Wrestlers and boxers often go on diets in order to make weight class or go on "sweat jogs" in order to lose water weight. In addition, 70% of male jockeys often skip meals in order to lose weight. The point of me telling you all these statistics is to try to convince everyone that male eating disorders are very real. There is such a stigma around a man with an eating disorder that most never get the help that they need. In addition, eating disorders in present themselves a little differently. So, below are the symptoms typically present in a male with an eating disorder. I strongly encourage wrestling, rowing, running, jockey, dance, and figure skating coaches to read the symptoms and actively look for them in your athletes. Typically, men need more encouragement and support when it comes to eating disorders because of the stigma.
symptoms in male athletes:
concern with muscularity and weight
gay and bisexual males are at higher risk
being over weight prior to the eating disorder
obsessive exercise and training

sports at highest risk are gymnastics, running, jockeying, wrestling, boxing, bodybuilding, dancing, and swimming

body image dissatisfaction
men are more likely to have bulimia nervosa than anorexia nervosa
men with eating disorders often have other mental illnesses such as anxiety, depression, or substance disorder
eating disorders in men can be to gain or lose weight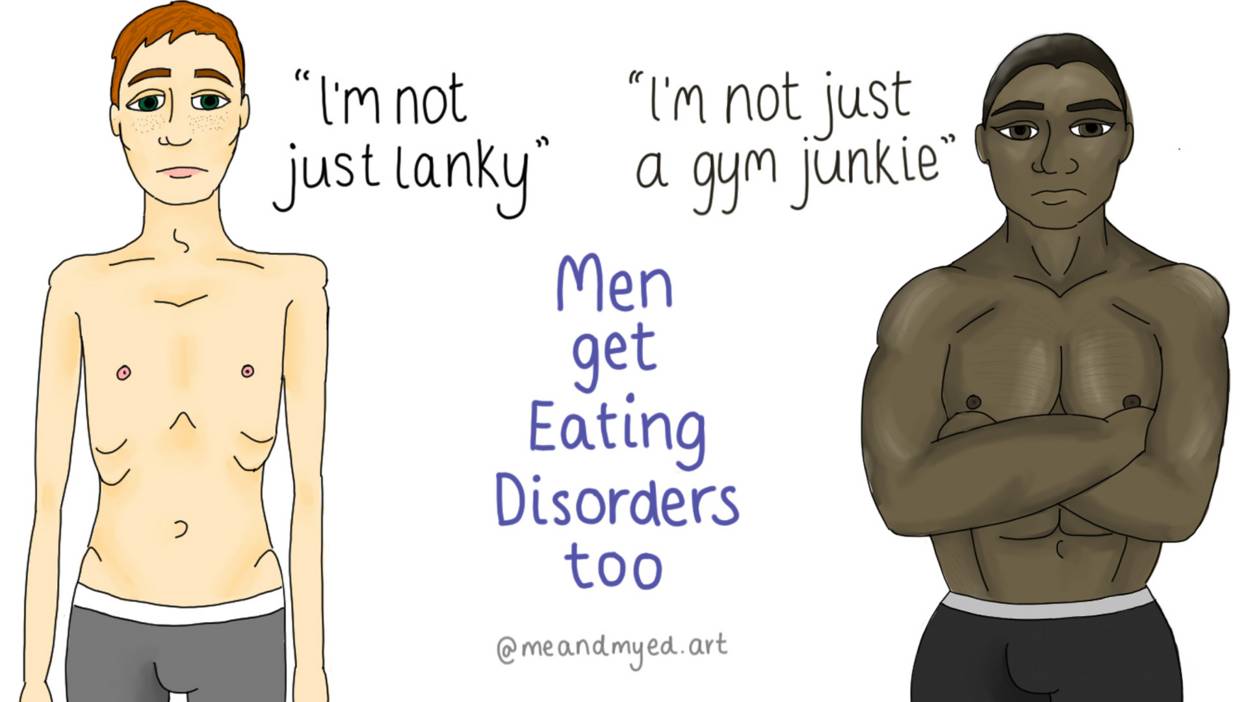 The Facts:
In a study of division 1 athletes over ⅓ of females athletes report symptoms and attitudes that put them at high risk for anorexia nervosa

Athletes are more at risk it they play a sport that emphasizes appearance, weight requirements, or mascularity

Gymnastics, diving, bodybuilding, or wrestling

Sports that have a focus on individuals rather than the entire team

Gymnastics, running, figure skating, dancing or diving

Endurance sports

Track and field, running, swimming

Male athletes are also at risk but primarily sports which put a large emphasis on athletes diet, appearance, size or weight requirements

Wrestling, bodybuilding, crew, and running

Mortality rate between 3.6-9.9%

5-10% of anorexia cases are male but 45% of males with anorexia are involved in "an occupation or athletic team in which control of weight is important for good performance"

Male athletes are at higher risk for eating disorders than female athletes

Sports where lower body fat can be an advantage are at higher risk

For example distance running

Non-traditional male sports are at higher risk

For example figure skating and diving

Sports where the male athletes have to "make weight"

Boxers and rowers are likely to engage in disorderly eating, extreme food and fluid restriction, and "sweat runs"

Male jockeys- 69% skip meals often, 30% induce vomiting, and 14% abuse laxatives
What athletes need to know…
Allow for rest (every athlete should have at least one day of rest or light activity per week)
Know about nutrition and how many calories you should be eating to maintain a healthy body weight
Be aware of the signs
Monitor your body weight
Female athletes need to make her amenorrhea doesn't happen (when a woman stops having her period for 3 months or more)
know where to go for help

a parent
a coach
athletic trainers
Stories From Athletes
How Coaches Can Help Detect Eating Disorders:
I would like to preface these points by saying that eating disorders are more difficult to pick up in athletes, because often it is not that an anorexic athlete is not eating at all. Rather it is typically that an anorexic athlete is not eating enough. For example, a runner that is running a minimum mileage of 6 miles days (at least 600 calories) should not be eating light salads for every meal. Below are some suggesting I have for coaches on how to detect eating disorders.
Examine energy level of athletes

an athlete with a low energy level could be because of sleep lack of sleep, lack of food, or deficient in vitamins or iron. All these need to be addressed and are of equal importance.

Go out to eat with the team and observe both watch the athletes order and how much they are eating.

If the athlete orders a low-calorie meal at a restaurant that doesn't specialize in that food could be a warning sign. For example, if you go to a bagel sandwich place and they just eat fruit or if the team does to burger joint and the athlete orders a low-calorie salad
If the athlete does not eat much, plays with their food, or offers food to other people often

If an athlete fluctuates weight
If an athlete avoids team events centered around food
How to Prevent Eating Disorders on your Team:
Provide education on nutrition as part of practice. I recommend adding this to the preseason of all sports. This educational section should briefly go over a balanced diet which is specific for the sport they are playing (how much protein should they be eating, carbs, etc.). In addition, eat athlete should know how many calories they should be eating (this may change from preseason to normal season but each athlete should know this information).
A basic understanding of different types of eating disorders (anorexia nervosa, bulimia nervosa, binge eating disorder, purging disorder)
Male athletes need to understand that they are at risk too
Coaches and athletic trainers should develop a relationship with athletes.
Coaches need to put athlete well-being and health above success or performance
A supportive environment among teammates
Please Leave Comments and Feedback! 🙂
https://docs.google.com/forms/d/e/1FAIpQLSf4ief7-6Dq0QnFSbvd-XFQ06hqNhb3WL8mRfvPatyhbHzZiQ/viewform?usp=sf_link
Sources:
https://www.straitstimes.com/lifestyle/men-with-eating-disorders
https://www.bbc.co.uk/bbcthree/article/c68ae553-d125-4a58-a807-b77d15e29bf9
https://www.npr.org/2019/03/02/699733879/underdiagnosed-male-eating-disorders-are-becoming-increasingly-identified
https://www.ncbi.nlm.nih.gov/pmc/articles/PMC3289170/
https://www.nationaleatingdisorders.org/sites/default/files/nedaw18/3.%20CoachandTrainerToolkit%20-%20Copy.pdf
https://www.healthline.com/health/eating-disorders/purging-disorder
https://www.outsideonline.com/2191906/eating-disorders-are-more-common-you-think
https://www.nationaleatingdisorders.org/eating-disorders-athletes
interview with Kelly Weibe, Amy Robertson, and Liz Sanders