My Introduction Video!
Project Statement:
For the catalyst conference project, I decided to create my very own pollinator garden, designed with my specific location in mind. I live in the Pacific Northwest, so I tried to use plants that are suitable for our climate. When creating a pollinator garden, it is important to keep in mind that you should be using native species whenever possible because they will fit in best with your local ecosystem, as well as attract beneficial native pollinators. Also, pollinators are not just bees! They also include beetles, bats, hummingbirds, butterflies, and many others. It is important to keep in mind that you want to cater to a variety of local species, not just bees (as many of us tend to think about when we imagine pollinators).
Why are pollinators so important? Well, watch this:
As you can tell from this video, bees and all other pollinators are SUPER valuable to our ecosystems and for us as humans! With this in mind, my next step was to design my very own pollinator garden so that I could do my part in helping to fight this huge problem.
Insights & Inspirations:
One of my biggest inspirations for this project was Swansons Nursery, a popular nursery here in Seattle.
They do a lot of community outreach, including providing a multitude of gardening resources to us Seattleites. Swansons even has its very own pollinator garden in front of their nursery! Seeing the success of their model was really inspiring for me.
Here are some photos of their pollinator garden being planted in 2018, for reference:
(Swansons Pollinator Garden.)
Process:
For my project, I decided to first design my own garden and see how it works out before I expand my efforts. If it goes well, I hope to use this plan to create more pollinator gardens in public areas in my community, as well as sharing this information with & around my school (through our environmental club, educational posters/bulletins, etc. etc.)
When choosing which plants to select for my garden, one of the most helpful resources for me personally was my local county's website. They provided a plethora of amazingly informative guides to native plants in our region. If anyone else is looking for native plant resources, I would recommend a similar approach!
https://www.kingcounty.gov/services/environment/stewardship/nw-yard-and-garden/native-plant-resources-nw.aspx
An example of one of the helpful resources I found: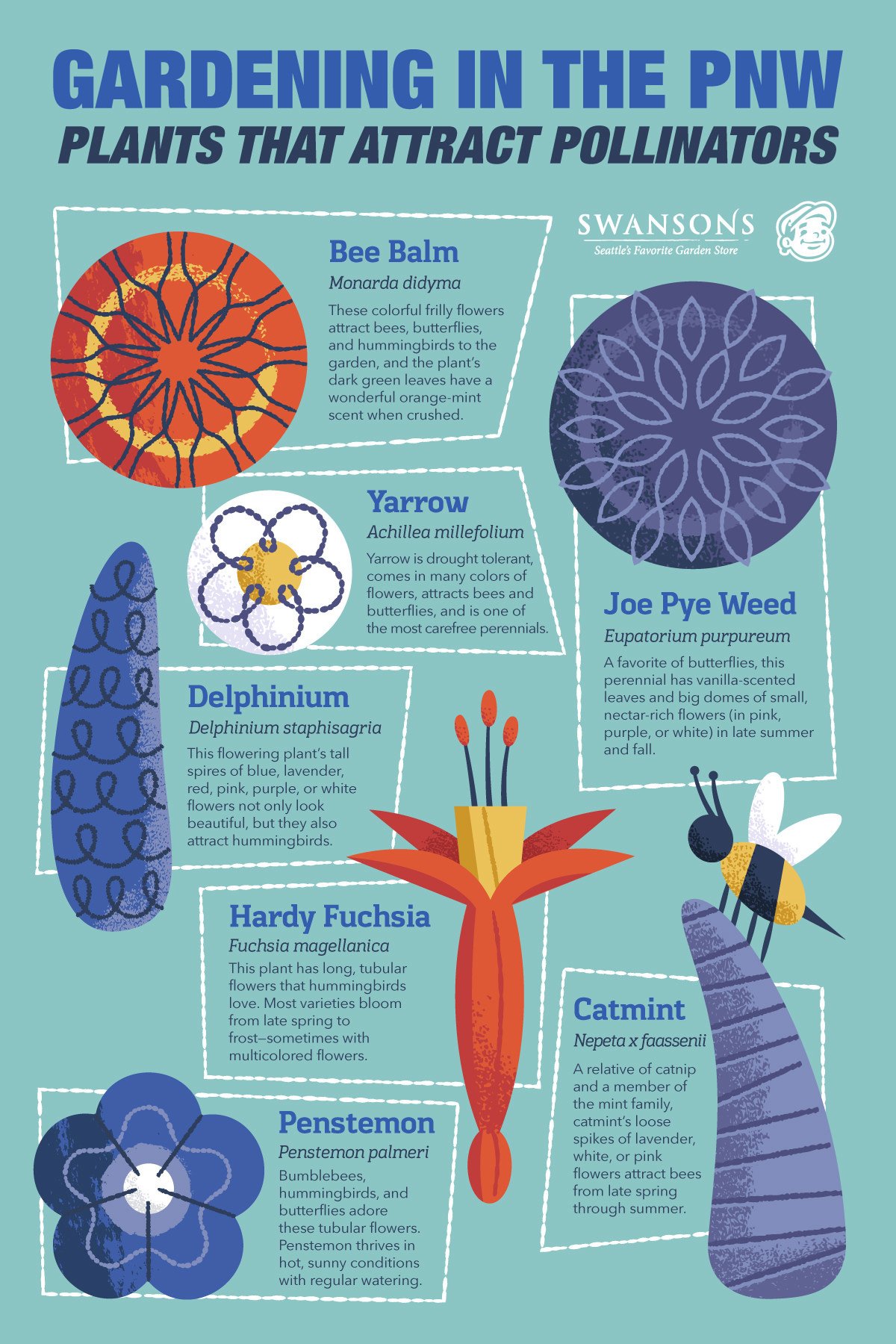 (Gardening in the PNW: Plants That Attract Pollinators)
Here are some closeups of a few of the species that I decided to include in my garden:
Catmint

Lavender

Purple Sage
As of now, I have had to resort to planting mostly herbs due to availability issues caused by COVID-19. As soon as possible, though, I am going to continue expanding upon this garden. In the future, I plan to add more flowers, grasses, and groundcover to this particular space. I will also be providing water & shelter for the pollinators.
Here is what my garden looks like now (this is just the beginning, I am super excited to see where this project takes me!):
I know that this website will be reaching a global audience, so I want to emphasize to all of you how easy it actually is to help your own local pollinator populations. The process does not have to be super complicated, there are SO many resources out there! A quick google search will yield many results that can help to inform and guide you in the right direction.
Below is an infographic that I created which includes information that you can apply to your own community. For the ones I am going to create & distribute in Seattle and to my school, I am going to make them specific to our location. But for this conference, I wanted to include one of the infographics that contains more general information that could apply to anyone.
Thank you so much for taking the time to look at my project, it means so much to me! If you personally have any experience with pollinators or pollinator gardens (maybe you own bees, know a local garden or park that houses pollinator habitat, or you have been involved in a similar project), please let me know! I would love to hear about your experiences.
As always, feel free to let me know if you have any questions, comments or suggestions. I would love to hear your feedback regarding my project and what I can do to improve upon it. Again, thank you so much for your time!