What you need to know
Mental health is unfortunately still a grave issue in developing countries, Ghana being one of the countries to be most affected.
Out of the 30 million people that live in Ghana, nearly 7 million live on less than a dollar a day. Simple necessities such as food, water, shelter, and sanitation are things that they struggle to obtain on a daily basis. With such circumstances, it is obvious that the majority of the country will not have access to mental health care.
One of the biggest issues I have seen in Ghana, however, regards the local Kayayo girls. Kayayo girls are girls and women ranging from the age of six all the way into adulthood, which works as living shopping bags in the local markets. They carry loads from 30 to 50 kilograms on their head and make less than two dollars a day for over 10 hours of hard work a day.
Education is not a privilege everyone in Ghana can afford, and the education of boys will always be prioritized. As a result of this, little girls from the North of Ghana, are sent down South to the capital; Accra. There they work and sleep in crowded rooms or in front of stores. The girls work to earn money that will help their brothers go to school, while they themselves never got proper education, or were forced to drop out after the second or third grade.
The money they earn is kept with an elder woman that they 'trust', however because of their lack of education, they are often unaware of the fact that they get money stolen from.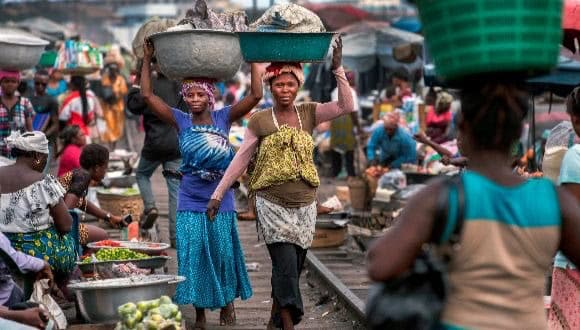 These girls are unfortunately often alone, without family, with a small community of fellow girls at best, leaving their mental well-being completely uncared for. 
My response: What can we do?
Along with a few of my friends, I created a club at my school, targeted specifically at these women. We started the club after a Danish filmmaker, Jorgen Lorentzen visited our school. The movie was presented to us during lunchtime and the entire audience was in tears by the end of the 30-minute film. 
Our goal was to build a shelter house out of profits that we would raise by selling shirts, baked goods, and by hosting a movie night where we would present a very powerful movie about the issue. While working in the club and talking to some of the women at the market, I realized that their emotional well-being is not tended for. We had already planned on teaching the girls and women basic math and reading skills, however, I decided that I wanted to involve some of the school counselors. I wanted to help them by providing people they could talk to about issues they may be having. All of this would be free, and we would aim to visit the women and the girls once every month, so they can receive free counseling. 
This way we could monitor their emotional well-being, and reduce some of the stigmas that mental illness has in Ghana and other developing countries around the world.
How will you get involved?
Unfortunately, this is an issue that can be seen in many developing countries, and will not be fixed by simple counseling. My main goal is to help the girls live a life where their mental health is as important as their physical ones. I wish to give them the support system that comes naturally to most of us and ensure that their emotional well-being will begin to be seen as a crucial part of their lives. 
I would love to know if you learned something from my project and if you have any suggestions on how I could further help these girls. 
In the comments below I would kindly ask you to answer any of the following questions: 
Have you ever heard of an issue similar to one of the Kayayo girls in Ghana?

In what other ways could I ensure that I help the mental health of Kayayo girls?

Do you think the lack of knowledge of the significance mental health reduces the risks of it or increases them?

Have you ever been a part of a similar project, and if so, what advice would you have for me?
Call to Action
Unfortunately due to the current state of the world, it will be impossible for the counselors at my school and for myself to help these girls. However, I will certainly work to bring this project to life during the next school year. This said I would like to ask anyone that is interested in helping out with this project to write their e-mail in the comments below. Together we can spread the message of the movie: Kayayo, The Living Shopping Baskets. I would love for there to be screenings of the movie all around the world in different schools, and use the profits to provide counseling and mental health care to the Kayayo girls that are in desperate need of it. 
More Information
For more information about Kayayo girls, and the work that is being done to help them please visit these sites: