INTRODUCTION:
WHAT YOU NEED TO KNOW:
In the modern day United States there are more women who wear a size 16 compared to those who wear a size 6. Regardless of this fact, fashion designers continue to perpetuate not only unrealistic but harmful body image ideals through their clothes, clothes that are purposefully designed to only fit a select group of people. For even though half of the female population wears a size 14 or above, most stores only carry size 14 or below. Additionally, the models that these companies use to showcase their textiles in shows or magazines have been found to weigh 23% less than the average American woman. Overall, the images these brands are promoting are not accurate representations of what America's population truly looks like, and the ramifications these falsities are having on the women of the country are disastrous.
HISTORY:
The "ideal" body type for woman is ever evolving, but there is a constant factor that characterizes this change: the progression is consistently towards a smaller shape. The desire for a more petite body can be first seen in the style change from the 1900's to the 1920's. In the first two decades of the 20th century, the "Gibson Girl" was the look everyone seemed to covet. "This ideal of femininity was depicted as slender and tall, albeit with a "voluptuous" bust and wide hips," ("Women's Body Image and BMI: 100 Years in the US"). Though in sharp contrast to this, just a few years latter came the rise of the "Flapper". A style trademarked not only by its iconic dresses but also its pension for a slim, straight figure, and a flat chest. So much so that bra's were made constrict women's busts and as a result flatten them. The preference towards thinner bodies can be seen in each new fashion trend that came about even in the latter years of the 1900's. The 1970's, an era that promoted a "twiggy" look and "Crash Diets" that advertised the ability to lose up to 5 lbs in one night, were followed quickly after by the 1980's which promoted high intensity work outs. These fashion tends prove to show that each new beauty standard came with the unspoken requirement that females must become thinner, and as a result society is facing the same problems today.
THE EFFECTS:
With the rise in fashion trends and social media, women's standards for themselves are becoming harsher due to the constant pressure they feel to conform to society. Women are being taught the belief that "smaller is better". This can be seen in a study done by Tammy Kinley at the University of North Texas, where it was found that when women were asked to try on clothes, smaller sizes had a positive effect on their body image. Furthermore, the posters plastered on walls people see of models in the clothes they seek to buy are only serving to reinforce that message. What they don't know is that a majority of models maintain a BMI that is the same as someone who suffers from Anorexic. This information demonstrates that modern fashion is creating an undeniable force that is pushing women towards a certain body type. And when they try to reach these unattainable goals, women are continuing to struggle with eating disorders because they see no other way to achieve their goal.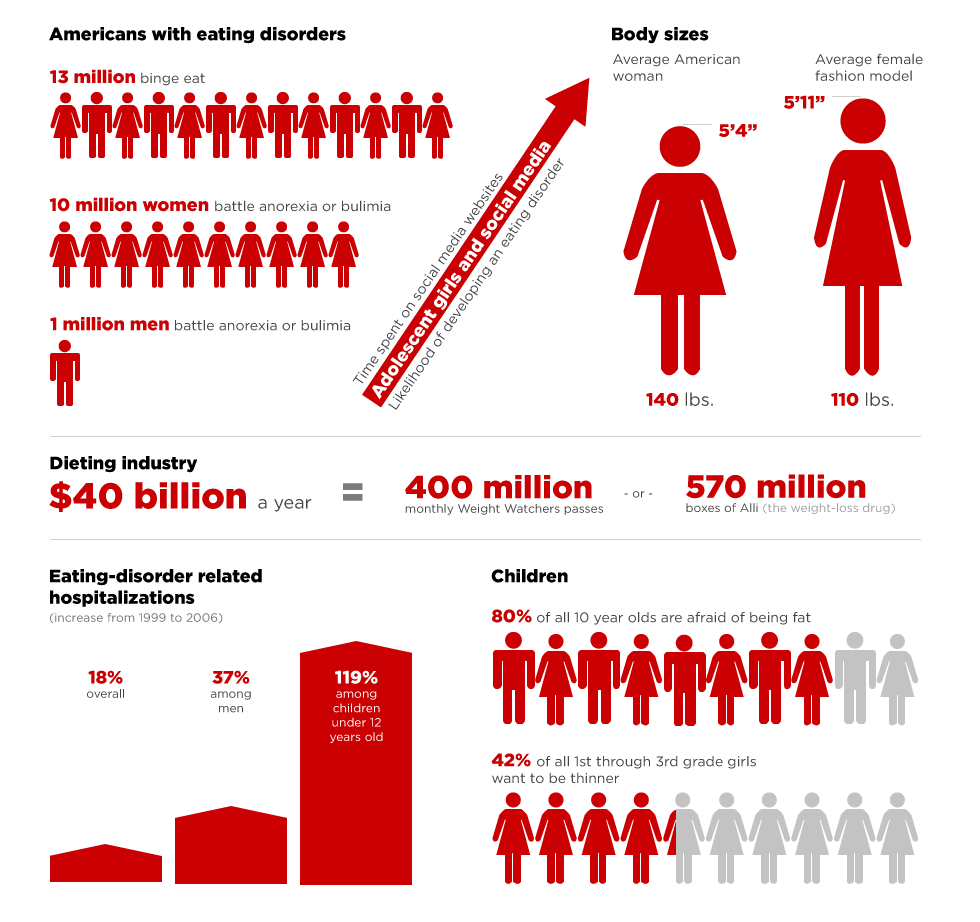 HOW CAN YOU HELP?
Promote self-love and kindness to all, including yourself, despite weight, height, or any body image "ideal". This means being aware of the disparity between what average women look like vs. runway models! Know that brands are not sharing pictures of the average person. Though at the same time not shaming people who are naturally thin due to their genetic make up. It means taking the time to include diversity in any projects you create, so that you can depict America as it truly looks. Take the time to educate others! A lot of people are unaware that the "reality" being promoted to the public by these designers is not so much a reality after all.
Advocate for yourself! Reach out to the fashion brands, designers, and major companies who are the root of these problems and make them aware of the issue. Support movements like plus size model Ashley Graham's "Swimsuit's For All" campaign, that promote body type inclusivity within the fashion industry.
As well, keep an eye out for any signs that a friend or a loved one may be suffering from an eating disorder. Some signs may be: refusing to eat in front of other people, disappearing after meals, drastic changes in weight, extreme mood swings, withdrawal from usual activities. If you take note of any of these symptoms speak to a trusted adult or counselor, and try to seek help for said person. Eating disorder's do not easily go away, and left untreated can be very dangerous.
If you or some you know is suffering from an eating disorder, listed below is the number for the National Eating Disorders Association Helpline:
READER RESPONSE FORM:
Please click the link below to fill out a response form!
https://docs.google.com/forms/d/1lKFeQ52c0HWsIbGPZMwLZIhVfm1YKRdnxSC_b5VB1oc/prefill
WORKS CITED:
Bloomfield-Deal, Elizabeth. "The Fashion Industry & Body Image; Transcending the Acquisition of Thinness." Eating Disorder Hope, 2015, www.eatingdisorderhope.com/information/the-fashion-industry-transcending-the-acquisition-of-thinness.
CNN, Cable News Network, www.cnn.com/interactive/2012/03/health/infographic.eating.disorders/index.html.
Cox, Analisa. "'How the Fashion Industry Affects the Bodies of Young Women.'" Medium, Medium, 22 Nov. 2016, medium.com/@analisa97/how-the-fashion-industry-affects-the-bodies-of-young-women-2c735fc6cec7.
Jones, Madeline. "Plus Size Bodies, What Is Wrong With Them Anyway?" PLUS Model Magazine, PLUS Model Magazine, 15 Aug. 2018, www.plus-model-mag.com/2012/01/plus-size-bodies-what-is-wrong-with-them-anyway/.
Kinley, Tammy. (2010). The Effect of Clothing Size on Self‐Esteem and Body Image. Family and Consumer Sciences Research Journal. 38. 317 – 332. 10.1111/j.1552-3934.2009.00027.x.
Lee, Veronica, et al. "Infographic: How Women Are Being Set Up For Eating Disorders." Infographics Archive, 25 Feb. 2020, www.infographicsarchive.com/infographic-how-women-are-being-set-up-for-eating-disorders/.
Seruya, Ashley. "Designer Blames Fashion Industry for Eating Disorders." Center For Discovery, Center For Discovery, 22 Oct. 2019, centerfordiscovery.com/blog/designer-blames-fashion-industry-eating-disorders/.
"Warning Signs and Symptoms." National Eating Disorders Association, 6 Feb. 2020, www.nationaleatingdisorders.org/warning-signs-and-symptoms.
"Women's Body Image and BMI: 100 Years in the US." Rehabs.com, www.rehabs.com/explore/womens-body-image-and-bmi/.